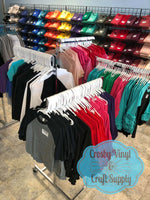 Blank Apparel Starting at $4.50
Shop our large selection of blank aparell for all of you design needs!
See What's In Store For You
Heat Transfer Vinyl
Heat Transfer Vinyl allows for the customization of a variety of items, including sports jerseys, T-shirts, performance apparel, active wear, jackets and more. With the selection and variety of colors in Stahls' CAD-CUT line, you will be able to decorate just about anything!
Permanent Sign Vinyl
Durable custom vinyl: easy to cut, weed, and apply.Use your vinyl cutter to create decals, point-of-purchase displays, banners and signs with this easy-to-use, calendared pressure-sensitive vinyl. This is a cost-effective way to create 1 and 2-color decals and signs.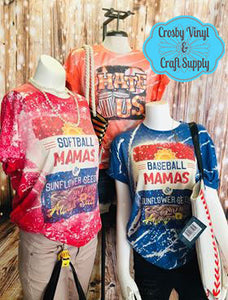 Pre-Printed HTV Transfer and Sublimation Prints
Quick and Easy ready to apply images to your apparel.
HTV Transfers have great opacity, vibrant colors and adheres to 100% cotton, 100% uncoated polyester and poly/cotton blends.
With sublimation prints, you're more limited in the types of fabrics you can decorate compared to heat transfer paper. First, sublimation only works with polyester fabrics. No 100% cotton! This is because sublimation ink only binds to polyester material. You can get away with sublimating on some poly-cotton blends, but the transfer will not be as bright and vibrant as when you use 100% polyester.
Customer Reviews
Whoa!!! I am blown away by how creative and kind and great service these ladies have at this shop!! I want to label everything now!!

Ursula W.
Excellent customer service!!! Always service with a SMILE😊
Great prices!!!
Super Duper creative and talented owners!!!!!

Jan G.
Definatly the best customer service you can get. All the girls are so friendly and more than happy to answer any questions you have or show you things if you need help. Glad to have a vinyl place right down the road now ☺️

Brittany C.